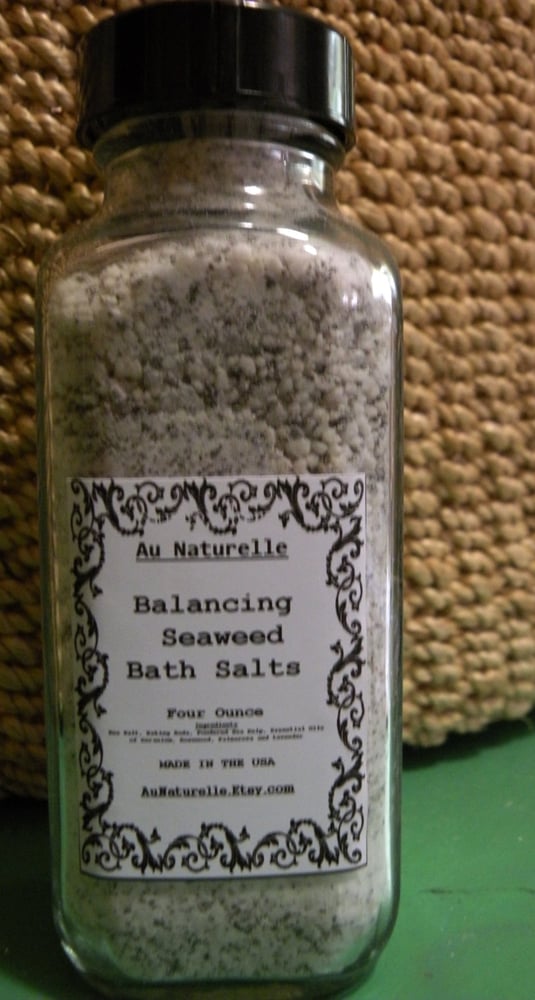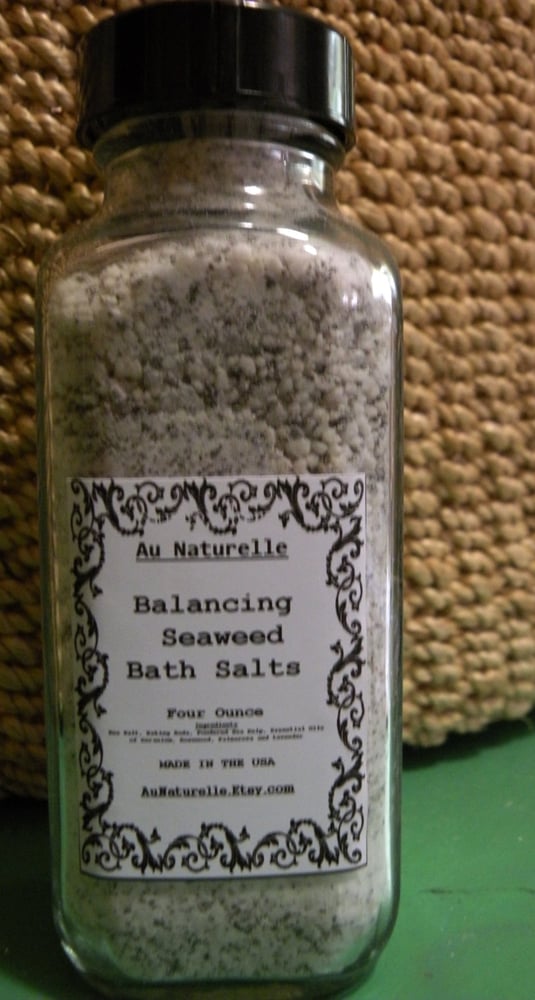 Balancing Seaweed Bath Salts - Four Ounce - All Natural Organic
$20.00
My balancing seaweed bath salts contains extract of seaweed in the form of kelp powder, to tone, refresh and soften the skin. Seaweed is also rich in minerals and has been used for centuries to benefit the body, stimulate circulation and promote a feeling of well-being.
The benefits of my seaweed bath may include relaxation, detoxification, nutrient absorption, healthier skin, weight loss and improved circulation. Seaweed baths can infuse high levels of antioxidants through the skin that might counter the cell damage done by free radicals and boost energy levels.
Ancient Greeks valued seaweed baths to promote health, and seaweed baths have been popular for a long time in Ireland for similar reasons.
Kelp contains acids that can bind to toxins in your body and when combined with heat, kelp or seaweed penetrates your skin and draws out impurities. Natural health proponents maintain that high levels of toxins in the environment overwhelm various systems in the body, including metabolic processes and the immune system.
Ingredients include;
Kelp Powder
Dead Sea Salt
Baking Soda
Essential Oils Of Geranium, Palmarosa, Rosewood And Lavender
Dissolve 1/4 cup in a warm bath and soak for 20 minutes.
Without rinsing, pat dry and relax warmly wrapped for
20 more minutes to reap the full seaweed benefit.
***Please be aware of the ingredients listed in this product for any type of allergic reaction you may have.
Also due to regulations set forth by the FDA, Au Naturelle does not make claims about the cosmetic products for sale, merely benefits of the ingredients included in the product.***
Thank you for looking!